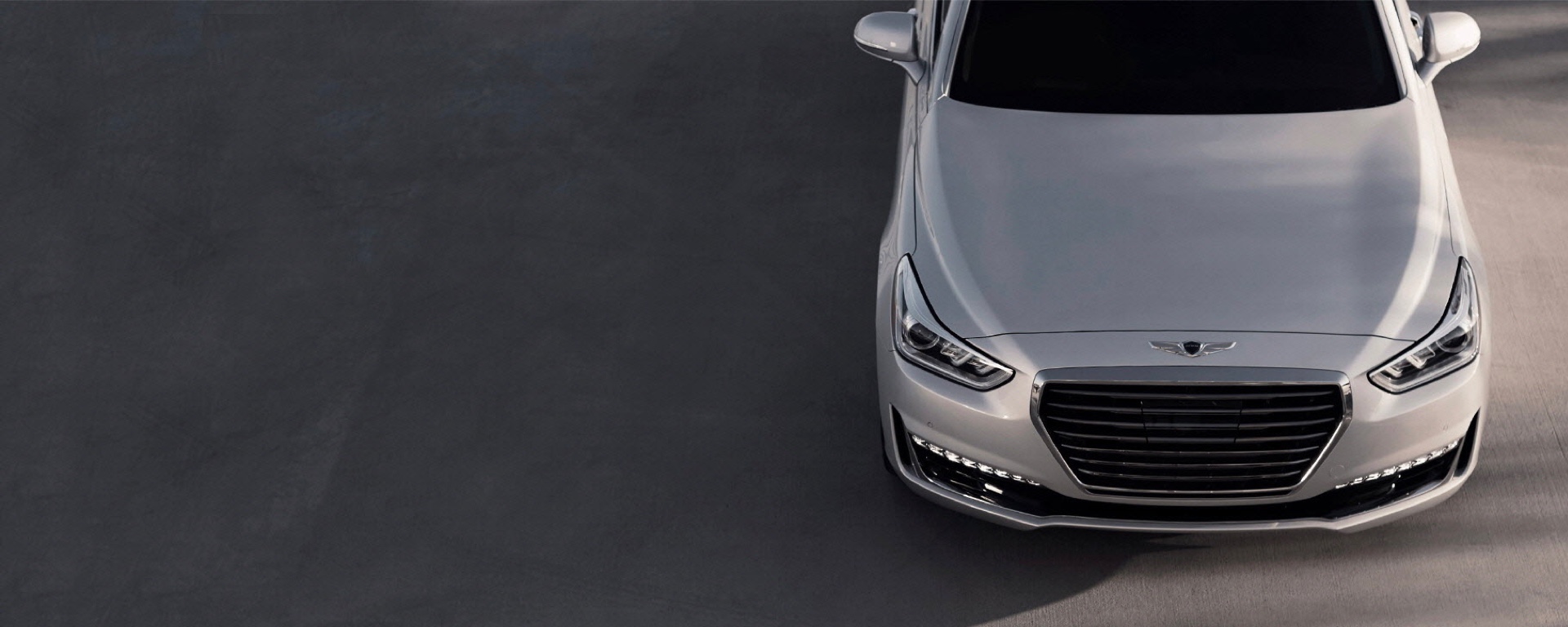 GENESIS EXPERIENCE,
AT YOUR SERVICE
TRUE LUXURY IS ABOUT THE COMPLETE EXPERIENCE. DESIGNED AROUND REAL NEEDS AND WANTS, RESPECTING HOW YOU ACTUALLY LIVE. THIS IS THE GENESIS EXPERIENCE, OUR THOUGHTFULLY CRAFTED SUITE OF OWNER BENEFITS.

GENESIS SERVICE VALET
YOU MAY NEVER SET FOOT IN OUR SERVICE CENTER. COMPLIMENTARY FOR 3 YEARS OR 36,000 MILES, WE'LL PERFORM A REMOTE DIAGNOSTIC CHECK, PICK UP YOUR VEHICLE, SEND A COURTESY REPLACEMENT AND RETURN YOUR GENESIS WHEN IT'S READY.

COMPLIMENTARY SCHEDULED MAINTENANCE
ENJOY A WORRY-FREE OWNERSHIP EXPERIENCE THAT INCLUDES COMPLIMENTARY SCHEDULED MAINTENANCE FOR 3 YEARS OR 36,000 MILES; WHICHEVER COMES FIRST. PLUS, COMPLIMENTARY OIL CHANGES EVERY NORMALLY SCHEDULED MAINTENANCE APPOINTMENT.

GENESIS CONNECTED SERVICES
SERVICES WHICH OFFERS A SUITE OF SAFETY, GUIDANCE AND REMOTE FEATURES, SUCH AS ENHANCED ROADSIDE ASSISTANCE, DESTINATION SEARCH POWERED BY GOOGLE™ AND REMOTE START WITH CLIMATE CONTROL.
---

SIRIUSXM ALL ACCESS, PLUS TRAFFIC AND TRAVEL LINK®
WITH 3 YEARS OF COMPLIMENTARY SIRIUSXM TRAFFIC AND DATA SERVICES, YOU'LL STAY UP TO SPEED WITH THE LATEST TRAFFIC INFO AND ROAD CONDITIONS. IN ADDITION, A SIRIUSXM ALL-ACCESS 3 MONTH FREE TRIAL LETS YOU ENJOY MORE THAN 150+ CHANNELS OF NEWS, TALK AND ENTERTAINMENT.

24/7 ENHANCED ROADSIDE ASSISTANCE
THE MOST ESSENTIAL LUXURY OF ALL IS PEACE OF MIND. SHOULD YOUR TRAVEL PLANS TAKE AN UNEXPECTED TURN, 3-YEAR COMPLIMENTARY ROADSIDE ASSISTANCE PROVIDES TIRE CHANGES OR TRANSPORTATION TO THE NEAREST GENESIS DEALERSHIP OR AUTHORIZED SERVICE FACILITY. ALSO INCLUDED IS REIMBURSEMENT FOR ANY OVERNIGHT INCONVENIENCE.

MULTIMEDIA AND NAVIGATION UPDATES
ADVANCED TECHNOLOGY INCLUDES COMPLIMENTARY MAP UPDATES TO YOUR VEHICLE'S NAVIGATION SYSTEM FOR 3 YEARS, TO ENSURE YOU'RE ALWAYS ACCESSING THE MOST UP-TO-DATE MAPPING. UPDATES ARE AVAILABLE ANNUALLY AS PART OF YOUR ROUTINE MAINTENANCE VISIT.
CONCIERGE NUMBER
WANT TO KNOW MORE ABOUT GENESIS?

A BREATH OF FRESH LUXURY
EXPERIENCE THE COMFORT AND
CONVENIENCE OF GENESIS
THOUGHTFULLY DESIGNED WITH INNOVATIVE TECHNOLOGY, REFINED COMFORT AND CONVENIENCE, AND DYNAMIC DRIVING PERFORMANCE, GENESIS IS EVOLVING LUXURY AS WE KNOW IT.
START YOUR DISCOVERY NOW.